LIFETIME GUARANTEE!
How amazing does that sound? We are certain that our approach to hypnotherapy will help you finally find the quit smoking success you crave.  Success, not for a few days, or a few months, but for life. Our experts are so confident in the quit program and quit smoking hypnotherapy we offer that our lifetime guarantee. We can do this because 95.6% of our clients are now non-smokers for life, and we want you to join this growing list!
These results may seem incredible, but as most successful method to QUIT, we know this can be you!
As part of our *lifetime guarantee, if you ever feel the need for a cigarette after your session, just give us a call with in 7 days.  Don't wait, call us immediately and your session is free of charge and you'll be back a non-smoker. Just call back within 7 days of your smoking relapse and we will help you get back on track. That's our commitment to your quit smoking success!
Why Don't We Offer A Money-Back Guarantee?
Our experts believe that a money-back guarantee creates an unconscious battle between the parts of our mind that want to quit smoking and the part that wants their money back. This means that people who are not really sure if they want to quit may start smoking again just to get their money back.  Quit Smoking Expert did offer this in the past. It became evident through quit smoking statistics that around 20% of people would came just for this reason. We now offer an exclusive guarantee which states: if you feel any cravings or the need to smoke after your initial session, and you contact us immediately (within 7 days) any follow-up sessions are free as a part of our lifetime guarantee. With this small change, our success rate changed and we now find that more than 95% of people have stopped smoking forever as a result. Do you want to be like this too?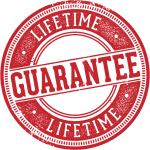 *T&C's apply
Ultimately, no quit smoking statistics could be more meaningful to us than the success of you quitting smoking forever. If you want to quit, then we commit to helping you with our quit program. We want you to stop smoking and we are committed to that goal!
So if you are serious about quitting and you're ready to see the results of quitting smoking, call us on 1300 64 53 54 or contact us today.