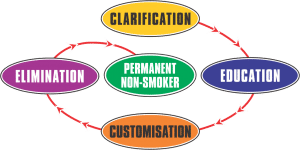 Do you live in Rochedale or Springwood? Do you want to Quit Smoking?
If the answer to these two questions is yes then contact us and become a permanent non-smoker in 60 minutes.
Start Now on Your journey to be a non-smoker

Have You Ever Heard Anyone Over 30, Say…. I want to Die Before I am 60 Years Old…….
Of Course Not!!! but the reality is that a high percentage of smokers die before they reach 60.  That means if you are 30, you are half-way through your life….. ….. Only about 30 years left………  That's Only 360 months …..
How Fast Did Last Month Go?  Or the Last 3 Months…. 
When You Put Life into "Months" …. doesn't it seem, very, very short!!!
Smoking Doesn't Make sense ….   Really, Does it?
I know that you may think that it's:
Too Hard to Quit …. all those cravings and withdrawals…
It's too stressful, and how will you cope with stress anyway?
You'll put on weight?
You will you have to 'give your friend' – (smoking)
If any of these questions create a desire to QUIT Smoking, then don't hesitate, the time to QUIT is right now.
This System Makes Quitting Smoking Easy

The reason we can offer our unique lifetime guarantee is because we have such a high success rate.
Why People don't Quit Cigarettes
Everyone knows smoking cigarettes is not good for them. Everyone knows they spend too much money on cigarettes.
So what are you waiting for??
Start Now on Your journey to be a non-smoker