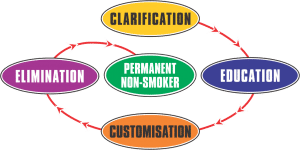 Do you live in Birkdale or Wellington Point?    Are You Ready to Quit Smoking?
If the answer to these two questions is yes then contact us and become a permanent non-smoker in 60 minutes.
Have You Ever Wondered WHY You Continue to Smoke When You Know Every Cigarette is Killing You?

Every Smoker Knows that they run the risk of developing:  Lung Cancer; coronary heart disease, emphysema; Gangrene!
Every Pack of cigarettes now has your choice of illness:  You can Choice from the Fatal Five!!
You Know Every Cigarette is slowly killing you, that should scare you, but it doesn't!
WHY?
Because every smoker has a Greater Fear! 
So What's Your Fear?  What's the Secret that is stopping you Quitting Cigarettes?
Fear of the Cravings.  Think it will be too hard and too painful to Quit?
Fear of not being able to handle the Stress of Life!
Fear if you stop smoking you will put on weight?  (Big concern for women!)
Fear You will Fail and then end up feeling a failure or worse.  Its happened before!
Fear of 'Giving Up Your Friend"  you won't have company when you go out!
Fear of Losing your "smoking buddies' – Your friends?
Fear of not knowing what to do …. if you don't smoke, what do you do with your hands?
If any of these FEARS resonate with you…. Take a Deep Breathe…. You are not alone!
These are the 7 Greatest Fears of Quitting Smoking…. most smokers have 2 or more of them!
Our Unique Hypnotic Quit Smoking System eliminates these concerns:
There are No side effects
No cravings or withdrawals
Absolutely No need to Put on weight
We teach you how to deal with stress, if this is an issue
Once you don't stink like a 'over-used ashtray' you will attract new friends who will support you, not try to kill you!
Our Hypnosis Process Makes Quitting Smoking Easy
With Our Lifetime Guarantee…  if you "WANT" to QUIT Smoking……You have Nothing to Lose!

The reason we can offer our unique lifetime guarantee is because we have such a high success rate.