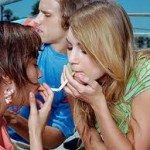 Men who had begun smoking cigarettes by late adolescence had much shorter lives than their non-smoking peers, a prospective study found.
Among a cohort of men enrolled at Harvard University between 1916 and 1950, those who reported smoking at age 18 had a 30% increase in all-cause mortality , according to G. David Batty, PhD, and colleagues from University College London in England.
And for deaths from smoking-related cancers, the hazard ratio reached 95% , Batty and colleagues reported online in a research correspondence in the Journal of the American College of Cardiology.
"Cigarette smoking in adolescence is common and continues to increase. Policymakers require reliable estimates of risk disease burden," the researchers stated.
To that end, they explored mortality outcomes among 28,236 men in the Harvard alumni cohort for whom information was available on baseline smoking.
A total of 36.3% reported smoking at the time of enrolment, with numbers increasing from about one-quarter in the earliest decade to more than 40% during the 1940s.
By the 1950s, baseline smoking rates had begun to decrease, falling to 34.3%.
During a median follow-up of 53 years, 48.5% of the men had died from any cause.
Along with the high rates of smoking-related cancers, mortality from cardiovascular disease was 20% higher among men who had been smokers in late adolescence , the researchers reported.
Analysis of later life smoking was based on 5,785 men for whom information was available at three subsequent time points.
In this subgroup, 39.2% reported smoking at baseline. By 1966, when their mean age was 42, 57.4% continued to smoke, as did 25.3% by 1977 and 11.1% by 1988.
All-cause mortality among men who continued to smoke was more than twice that seen for men who had not smoked .
And while men who had previously smoked and quit had higher mortality than non-smokers, their risk was considerably lower than for those who remained smokers.
"Although adolescent smoking patterns in our cohort may differ from those of contemporary adolescents, our results indicate that cigarette smoking reported directly in early adulthood has a negative impact on mortality, particularly due to [cardiovascular disease] and smoking-related cancers, more than 50 years later," observed Batty and colleagues.
They pointed out that, as the health hazards of tobacco use became more widely known, quit rates increased, reaching nearly 90% of the baseline group by the late 1980s.